June, 2021
2021.7.17-11.30
Treasure Hunting Game "Ninpocho"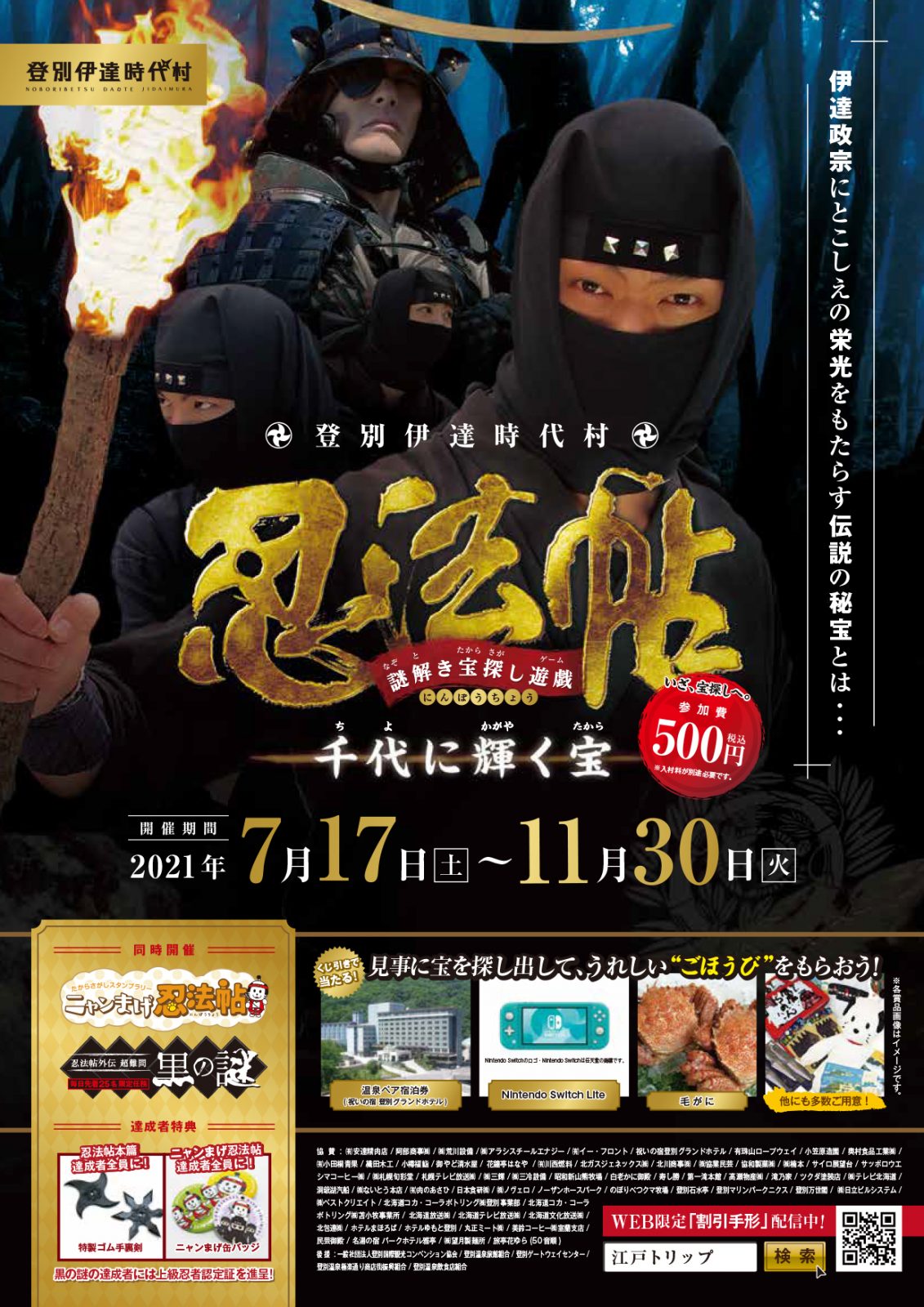 Discover the treasure hidden in the park by solving some puzzles, then you will win a prize!
There are 3 courses of different difficulty levels.
*All puzzles are written in Japanese.
beginner: Treasure Hunting Stamp Rally "Nyanmage Ninpocho"
Let's look for the treasure by collecting stamps on an illustration map with some hints written in Hiragana.
-Required time/ approx.30min. (There are individual differences.)
-No age limit but it requires ability to understand Hiragana.
medium: Puzzle Solving & Treasure Hunting "Noboribetsu Date Jidaimura Ninpocho"
You should complete some missions written in Makimono scroll (Ninja's command book) and find the treasure box. That requires you to be proficient in Japanese.
-Required time/ approx.60min. (There are individual differences.)
-No age limit but we recommend it for upper elementary grades and older.
advanced: Challenging the Super Difficult Puzzle "Black Code; the special edition of Ninpocho"
Only first 25 applicants can challenge it on each day. It requires not only Japanese skill but also a high level of problem solving ability.
-Required time/ approx.150min. (There are individual differences.)
-Limited for adults (middle school and older)
Please check the special website (in Japanese) for details.

Date

2021.7.17-11.30
Time

All day
*Participation receiving ends 1 hour before park closes.
Fee

500yen per person
*There is a separate admission fee for the park.
Way to Participate

There is a special reception counter in front of Fire watchtower.
Please get the puzzle book or map there and start the game whenever you like.

The event content is subject to change or the event is subject to cancel due to circumstances.